Since my last post that wasn't a writing prompt I have been off the computer for awhile.Had kind of a shitty month and a half :(
I went in for my mammogram I ended up needing a second one and will need to go back in 6 months so they can recheck. I also had a MRI on my breast (it's just a precaution for people with BRCA) which was extraordinarily uncomfortable but came back clear so that's excellent news. In between all that I ended up at the emergency room for horrible hip and leg pain which was later diagnosed as sciatica. The sciatica so far has been horrible, I live every day in pain before this but this pain is weird and unbearable. My house was also full of sick people. My daughters got colds and sinus infections, I got strep and my husband got a cold and a sinus infection. All while I was literally laid up could hardly move. I have to say when the Lord wants you to slow down he definitely can stop you dead in your tracks.
I am finally back up to sitting and walking around a bit. Trying to get back into the swing of life without over doing it. I am so blessed because my mother-in-law helped so much getting my from school and me to doctor's appointments. She definitely is a blessing. My husband also rocked the house by cooking every night even when he was sick as all get out. He picked up all the slack with the house. I can only say I don't know what I would have done without the two of them.
I truly made a point to try and enjoy everything I could from my couch :(. The weekend that the whole house was sick we had a movie marathon. As the girls started feeling better they decorated the tree it was so cute because the tree was decorated just to about 4 ft the rest of the top was bare. As I was able to stand in short amounts I helped and we got part of the top decorated. WE as a family managed to make what could have been completely miserable enjoyable. I am so proud of our family.
I am so slowly getting better but we are figuring out how to do things around me being laid up. The Lord has his reasons for slowing us down and I really believe it's so that we can remember to enjoy everything.
With all of that being said I can't go with out saying how devastated I was with the Newtown shooting. I can't imagine how the families are dealing with all of this. I pray for them a lot. That Friday night my ex had our girls for the weekend. I was so blessed that when I asked he had them call me just so I could hear there voices. Then that very next day was when we celebrated my husbands birthday which happened to have been on Friday I was able to have the girls for a few hours. It felt so good to have them just to see them. I have to say Monday was terrifying because we live in CT and I just couldn't imagine them going back into school. I was able to pray and remember that their school is rather secure it has a wonderful security guard which is new this school year. I was ever so thankful for him.
Monday night my youngest daughter passed her belt test at karate something to enjoy. (here is a pictures of her when she started her journey)
She is now going to be a second degree brown belt. It's the small things.
I am so very sorry for all that happened here in our little state but in the aftermath the amount of people coming out to show support for the families is amazing. There are people building human walls to shield the families from negative things and show there support.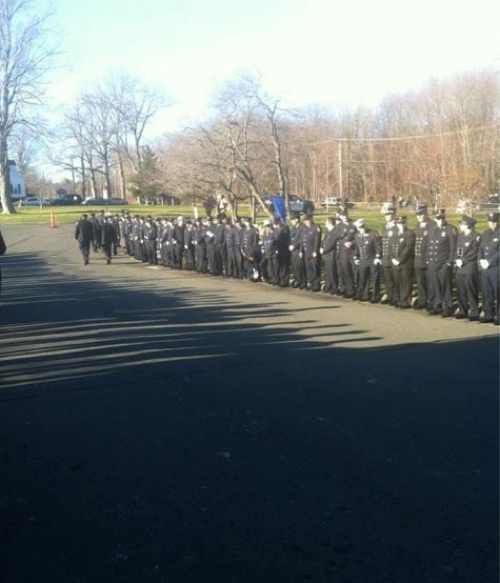 I unfortunately can't give credit to the photographer as I couldn't find their name listed.
This is just some of the good things that are being done for this small town. There are funeral home directors volunteering there time as this town is so small that they only have one funeral home. A man from California called the local coffee shop and paid for a day of coffee for anyone who came into that store. America is coming together and trying to help this community heal. It doesn't take away the horrible things that happened but does show that there is still love out there. I will continue to pray that God will continue to wrap his arms around those effected and comfort them.